Platsannonser

Position:
Merchandise Senior Purchaser - Hard Products
Location:
Gothenburg
Employment/Assignment Type:
Permanent
About us: Volvo Merchandise AB designs, sources, sells as well as distributes merchandise goods as an integrated supplier to the Volvo branded companies within the Volvo Group and to the Volvo Group network in more than 180 countries. We operate from our locations in Sweden and the US. As a partner to the Volvo branded business within the Volvo Group we play a vital role in the brand image building.
Volvo Merchandise AB is owned by Volvo Group Venture Capital, Volvo Group's investment company. All aspects of our work are characterized by the well-known core values quality, safety and environmental care. The company has today 18 employees in Sweden.
The successful candidate will join a team of highly dedicated, hands-on merchandise professionals who share the vision to deliver merchandise which support brand strategies and do that effectively and with high quality.
Main activities & responsibilities: Purchaser:
Purchasing of hard merchandise products from a local as well as global sourced supplier base. To make sure that all purchases are in accordance with defined strategies, by optimizing the total cost and ensuring the quality, delivery, and cost compliance of the purchased items.
You act as a link between the VGMS Key Account Manager's, Product Planning and the product supplier.
Key responsibilities of the position are:
Global sourcing of suppliers for hard products that can deliver and comply with Volvo Group demands on CSR, Quality and Environmental Care
Innovative product development to be able to offer right merchandise products to best possible price to our clients
Close relation to Product Planning who is responsible for the total product overview
Negotiate with suppliers to find the right product for the right purpose in a cost effective manner
Quotation decision support of new products and repeat order requests
Disposition of new items and orders in Microsoft Dynamics AX
Order placement and order follow up with suppliers
Follow up on product samples together with our design team to ensure product make, measurements and fit to specification.
Team up with VGMS's Key Account Manager to understand their clients need and the needs of their customers related to merchandising products
Cooperate with KAM and project leaders to get strategic guidance and to secure right product development that is delivered on time
Competence & Qualifications:
The ideal candidate has a long and thorough experience of purchasing of hard merchandise products. You are driven to get the best deal in every purchase. You have the knowledge where to find the right supplier to develop the most innovative product requested. Your experience of working with global suppliers is long and you know your markets which is important to be able to give the best offer to our clients. Negotiation is a keyword in everything you do and you are socially skilled and build good relations with clients, customers, suppliers and colleagues.
IT and applications:
You are skilled in working with tools such as Excel, Word, PowerPoint. Experience in Microsoft Dynamics AX and a PLM system is an advantage.
Fluent in spoken and written English, another language is a merit.
Start date and timeline:
The position will be contracted as soon as possible.
For further information please contact:
Ulrika Thureson, phone; +46 31 323 15 60


----

CONNECT MARKETING EXPANDERAR I MALMÖ!
Connect Marketing har sitt huvudkontor i Malmö och ett säljkontor i Jönköping. Bolaget startades 2002 och bland våra kunder finns allt från lokala till globala avtalskunder.Vi är medlemmar i New Wave Profile sedan 2016 och vår utveckling här har varit mycket positiv vilket nu föranleder att vi vill bli ännu starkare på vår lokala marknad.

VARMT VÄLKOMMEN MED DIN ANSÖKAN!
Din ansökan med CV skickar du via epost till: paul@connectmarketing.se
(märk med "säljare" respektive "säljsupport") Du får då en bekräftelse.
Din ansökan med CV skickar du via epost till:paul@connectmarketing.se
För mer information kontakta Paul Borgelin på 0705-11 96 15.

SÄLJSUPPORT/ADMINISTRATION
Vi söker dig som har erfarenhet av liknande tjänst och gärna från samma bransch då det är mycket kontakt med leverantörer och kunder. För att trivas i rollen bör du ha lätt för att få kontakt med andra människor och vara social och mycket serviceinriktad. Vidare är du' självständig, flexibel och har en god förmåga att snabbt sätta dig in i nya arbetsupp-gifter och prioritera vad som är viktigast. Du bör vara strukturerad och ha en god organisationsförmåga.Goda kunskaper i MS office, Visma samt behärskar svenska och engelska flytande i så väl tal som skrift.

I STORA DRAG ÄR ARBETSINNEHÅLLET DETTA:
• Registrera och hantera orderflödesprocessen.
• Hantera webshopsorders.
• Inköp av produkter och tjänster.
• Kund och leverantörskontakt.
• Vara behjälplig med företagets övriga uppgifter.

SÄLJARE
Vi söker dig som idag är säljare med branschvana från profilbranschen.Du är väl förtrogen med såväl produktutbud som marknadens potential.Du har egen bil och körkort.

STORA DRAG ÄR ARBETSINNEHÅLLET DETTA:
• Bearbetning av såväl befintliga som nya kunder.
• Hantera dina administrativa uppgifter.
• Vara behjälplig med företagets övriga uppgifter.
• Arbeta i en självgående roll med budgetansvar.
• Medverka till att bibehålla och utveckla företagets goda kundrelationer.


FÖR BÅDA TJÄNSTERNA GÄLLER
Tillträdesdag enligt överenskommelse med placering i Malmö.De är tillsvidare tjänster på heltid, 40 tim/vecka.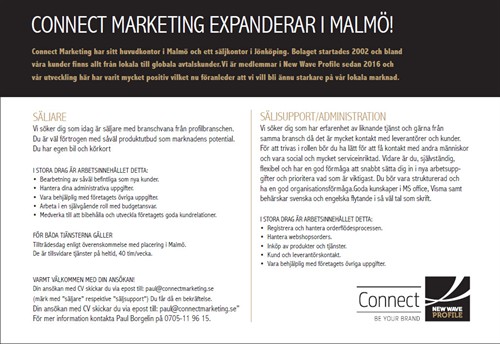 WACKES
Vi letar efter en erfaren inköpare till något av våra kontor i Borås, Stockholm eller Malmö.
Läs mer på wackes.com/lediga-tjanster eller kontakta Johan på:johan.mansson@wackes.com
+46 (0)46 - 16 22 67